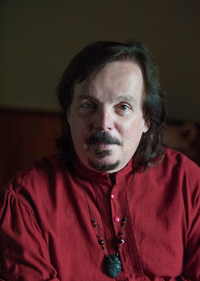 Today we sadly mark the passing of author Raven Grimassi, who authored several bestselling books, including The Encyclopedia of Wicca & Witchcraft. Raven's wife Stephanie Taylor posted on Facebook that Raven passed away on March 10, 2019 due to complications from pancreatic cancer. Raven published his first of over 15 books and decks with Llewellyn, Ways of the Strega (later republished as Italian Witchcraft), in 1995, and also contributed to several of Llewellyn's annual calendars, datebooks, and almanacs.
Sandra Weschcke remembers that, "Carl respected Raven and his work, and valued his relationship with Raven over the many years.  I personally enjoyed meeting Raven at various shows over the years and all of our communications about his books. He was a loved, respected, and valued Llewellyn author who will be deeply missed.  He truly was 'one of the great ones.'"
Senior Acquisitions Editor Elysia Gallo had this to say of Raven: "I had the honor of working on two books with Raven and the pleasure of socializing with him at many witchy events over the years. He was such a smart man, had a fun sense of humor, was meticulous about every detail, and a great conversationalist. And he was such a big part of not only Wiccan history, but Llewellyn history—he even taught Aridian witchcraft to his friends Scott Cunningham and Donald Michael Kraig! He will be remembered through his legacy of wonderful books, decks, and teachings, just as he will be deeply missed by the entire community."
Services will be at Hafey Funeral Service in Springfield, MA, where flowers of white and red roses can be sent or, in lieu of flowers, a donation in Raven's name can be made to the Temple of Witchcraft at templeofwitchcraft.org. Calling hours will be on Saturday, March 23rd, 2019 from 4:00 pm to 7:00 pm, followed by a memorial service at 7:00 pm to celebrate Raven's life and legacy.
His knowledge will live on in his books and decks, and for the countless people he enlightened through his work.